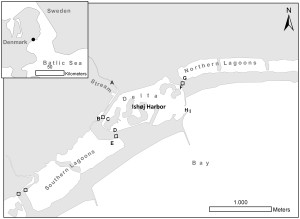 The harbor of Ishøj (DK) is the winter residence for a peculiar population of brackishwater perch that stays in the area from around October through April. They spawn in the brackish water of the harbor at salinities of up to 10, yet evacuate the area after spawning and seek the adjecent brackish water bay, Køge Bugt, during the summer months. The specimens are insanely large for perch, with individuals above 50 cm and 2 kg, and the population is also presumably large. This has not gone past the attention of recreational fishermen, and every winter the area around Ishøj Harbor is packed with anglers enjoying an entertaining fishery. This, of cause, puts a large fishing pressure in the population, and as a consequence the management has put an unconditional catch and release policy on perch caught in the area.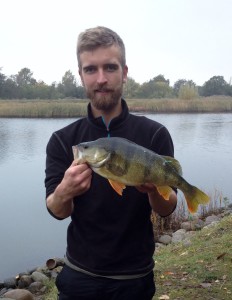 The combination of dedicated fishermen as well as unconditional catch and release makes Ishøj Harbor an ideal place to conduct a mark-recapture study in a setup where the locals report catches online. The fish are being tagged with external identification tags, and scale samples are collected in order to determine the age of the individuals. In addition, a device measuring oxygen level, salinity, temperature and depth has been setup in the area. These data have been made available for the local fishermen for them to assess the water conditions before planning a fishing trip.
The joining forces with the locals gives us an opportunity to estimate the population size, determine importance of physical/chemical factors on migration patterns, estimate growth rates, etc.
Exiting stuff!